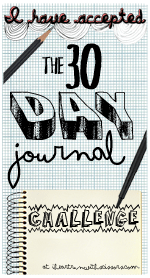 No, I haven't really accepted The 30 Day Journal Challenge that's going on over at
Run With Scissors
but I wish I could.  That is, I wish I could draw so that I could accept the challenge.  Granted, I only heard about it a few minutes ago and it started on June 14th but if I could draw I wouldn't let that stop me.  I'd just start the first prompt today and make my own thirty days of drawing and doodling fun. 
Alas, no.
My inability to draw, though, doesn't stop me from having a mini collection of moleskines.  I love moleskines and one of my favorite "I Have Nothing to Do" things to do is to click around the moleskine groups on Flickr: 
There is so much talent there...it's amazing.  And more than a little capable of inducing extreme jealousy!
I am thinking about signing up for an Online Amigurumi Design Class with Brigette Read of Roman Sock.  I've always wanted to make up my very own amigurumi patterns and maybe a class with someone as talented as Brigette would give me a little inspiration.   
And finally, in baby news, I ate an entire frozen pizza for dinner tonight.  Unfortunately, 'll pay for it with heartburn and acid reflux at about three or four in the morning....